Welcome to brianmacintosh.com. I'm Brian MacIntosh, and I am a game programmer in the Orange County area of Southern California. This site serves to host and distribute some of my games and my blog, below.
I have developed games and apps for the XBox 360, Windows PC, iPad, Amazon Alexa, and Windows 7 Phone. I'm particularly interesting in procedural generation, pixel art, and emergent gameplay, and I'm looking forward to developing more games with these technologies.
Blog

Ludum Dare 30 Go Time
August 23rd, 2014 @ 11:13
Tags:
ludum dare
,
html5
,
threejs
,
javascript
Just starting the first real day of coding for the 30th Ludum Dare. I started off this jam thinking of making some kind of simulation game - something where you, in a relatively low-pressure environment, could build up a system or a network and watch it do its work, like SimCity.
Justin and I had a short brainstorming session when the theme - Connected Worlds - was announced. They say to never go with your first idea - however, after considering two-screen tower-defense games, games where dinosaurs are attacking the modern world, games with constellations (I really liked that one and I hope some other people do it), and meeting Kevin Bacon, we eventually went with just that. This will be a game where you build up an interstellar shipping empire, moving goods between planets.
I also wanted to try to make use of multiple windows or views, and that goes well with theme. We're pretty sure we know what we are going to do with them. Early screenshot: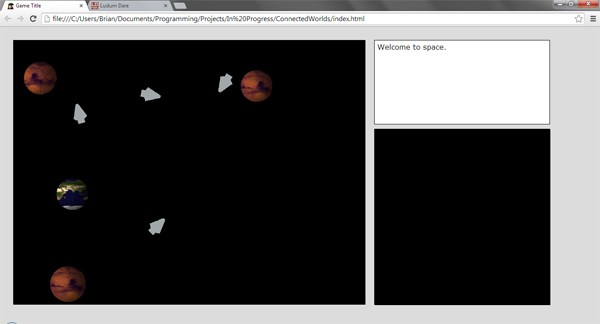 Permalink
Some Pixel Art
August 03rd, 2014 @ 20:31
Tags:
art
,
random
Indiana Jones-themed pixel art. Maybe a game, some day?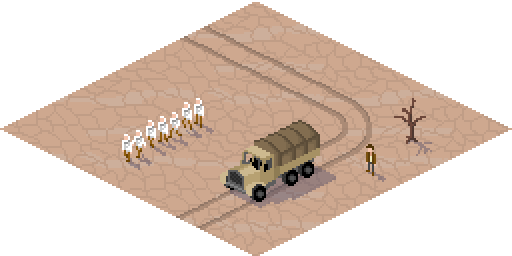 Permalink
Ludum Dare #29 Results
May 19th, 2014 @ 23:37
Tags:
ludum dare
,
legend of the thunder fish
,
game jam
The results are in from Ludum Dare #29. Fun being probably the most important category to me, I am quite happy with my rankings. I'm definitely improving over my scores from the last two jams, and I was happier with the game as well. The Dare had a record-breaking 2497 submissions this year.
| | | |
| --- | --- | --- |
| | Coolness | 82% |
| #64 | Theme(Jam) | 3.84 |
| #140 | Fun(Jam) | 3.42 |
| #211 | Mood(Jam) | 3.43 |
| #240 | Innovation(Jam) | 3.30 |
| #249 | Overall(Jam) | 3.39 |
| #316 | Audio(Jam) | 3.18 |
| #318 | Humor(Jam) | 2.70 |
| #485 | Graphics(Jam) | 3.07 |
During the judging period, I played 60-something games. You can find lots of "best-of" lists around - here are the best games I happened to play.
Permalink
.gitignore: permit only certain paths with negation
May 15th, 2014 @ 19:13
Tags:
git
,
random
Today I was trying to create a .gitignore file for a project that has to live in the same directory as a number of different folders. I wanted the git repo to only include folders that start with the string heroscape, while excluding any other folder.
The gitignore man pages point out that you can negate a pattern by putting a ! in front of it. I didn't notice at first that this does not ignore anything that does not match the pattern. Instead, it re-includes any previously ignored paths that match the negated pattern.
So to achieve what I wanted, I had to do the following, first ignoring all folders, then re-including folders that begin with "heroscape".
*/
!heroscape*/
Permalink
Dawn: Infinite Runner Game
May 11th, 2014 @ 3:17
Tags:
dawn
,
darkbasic
,
tgc
Between the Ludum Dare, school, and everything else, I've been turning out a lot of small projects this month. I recently participated in a competition on The Game Creators. The competition, inspired by Flappy Bird, presented one goal: make the most addictive infinite game possible.
My entry, titled Dawn, also draws inspiration from the classic Canabalt. It's a sidescrolling runner in which you play a man who must jump, smash, and fly his way through a scrolling obstacle course as the days pass by.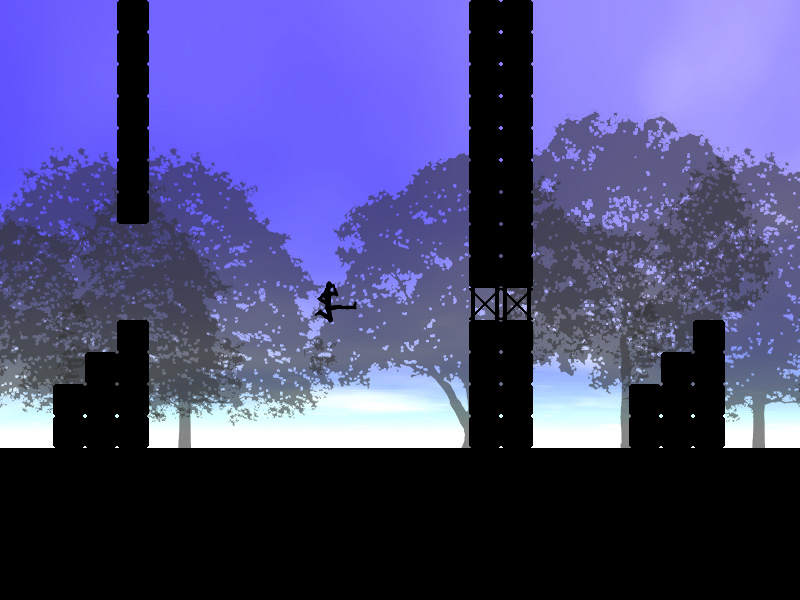 This competition was focused on addictive potential, so I implemented a few different ideas in an attempt to grab the attention of players of the game:
Online Highscores: they give the player something to shoot for. He can see what other people have done, know that it's possible, and attempt to prove himself better than them.
Day/Night Cycles: My idea here was to give the player a concrete sense of progress - more visceral goals to shoot for than the elusive high score.
Feel: Polish. If the game simply feels good to play, I reasoned, people will want to play it more! Key elements of this in Dawn include particles when smashing through walls and a good set of character animations that makes you feel awesome when you crash through those girders. At the suggestion of Justin Britch, I took a minute to implement a simple animation at the game end: quickly ticking up the user's score from 0, rather than just displaying it. This gives the score a sense of weight and grants the player extra satisfaction at his achievement.
It remains to be seen how effective these strategies were. Clearly Flappy Bird didn't need many of these things to become what it did!
Permalink